For many of us, learning a new language is not necessity as most people in this world live where they were born and most likely stay in one place for most of their lives.
And mastering a new language takes more than a short term commitment. You are busy trying to make ends meet and do not have time to devote yourself in something you rarely have a chance to use.
However, It is widely known that learning a foreign language has positive cognitive effects to your brain and people who speak multiple languages see the effects of Alzheimer's and dementia much later than those who speak only one.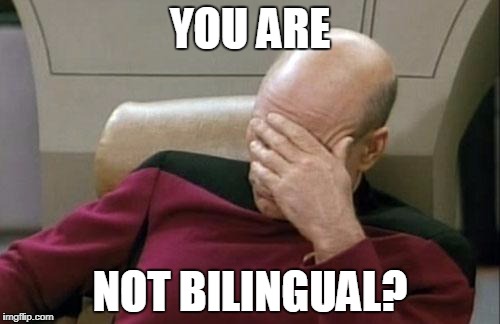 Also, studies show that bilingual students tend to score higher on standardized tests than monolingual students, especially in the areas of vocabulary, reading and math.
With that said, do these facts make you want to learn a new language?
Probably not.
As for me, I was never good at math or anything except English in school. And I never got raise by being bilingual.
But on a personal level, being able to speak and write English allowed me to do a lot of things: a lot of traveling without worrying about language and getting some freelance work.
So, for me the benefits were afterthought and over time I have realized about the positives.
8 Benefits of Learning A New Language You Probably Didn't Know About
1. The World Is Big
Learning another language broadens your horizon and lets you see the world through different lenses. Interestingly, the side effect of that is that it also allows you to see your own culture differently because now you are comparing yourself to different culture.
You can look at yourself sort of from an outsider's point of view. There are things people in your country might take for granted but now you find yourself seeing them differently, which can be both good and bad.
Ok, maybe you don't discover a new side of yourself just by learning a new language in your country, but it's a good start.
2. Understand the Importance of Long Term Goals
I know. Learning a new language is such a long term commitment. With a little bit of effort you might be able to have a few vocabulary down and string together some basic sentences but you never achieve fluency you dream about in a short period of time. So, it's very easy to give up after a couple months, a year or however long you have spent time learning.
But if you stick with it long enough, you know hard work can pay off. No, you will not start speaking a new language one day all of a sudden, but if you are smart enough to know how to use the small improvements you make from time to time as a fuel to drive your motivation even more, you know it's just a matter of time.
In a short period of time, you may not see a big difference, but if you keep pushing day in and day out, in the long run you will see the results.
3. Makes You See a Bigger Picture
Whether language learning or starting a new business, when you find small flaws in yourself and let them hinder you from taking action or achieving long-term goals, you tend to lose the sight of a big picture.
When I studied English at an ESL school in the U.S., there was a student in my class who at that point had lived in the U.S. for a few years.
One day during the class, he and the teacher started talking about how long it takes to be able to speak like a native speaker.
He was feeling a little frustrated and got into an argument with the teacher. Then he got up and left the class in the middle of a class saying he would never be able to speak English like a native speaker.
Understandably so, it's difficult to perfect any language. But even if you have accent and make a few mistakes, you can still be happy about yourself.
Sometimes when I am reading a book or articles on the web, I come across words that I don't understand even in my own language, so how can I be perfect in my non-native languages?
4. Become Adept at Multi-tasking
With ability to understand more than one language, you are capable of juggling multiple tasks at the same time.
Learning a new language requires you to use a new set of different rules that you are not accustomed to.
Interpreters – if you have seen them on TV, lecture or conference- can translate what they've just heard in a few seconds.
It's easy to translate just one sentence, but when the speaker speaks to a crowd for 2 minutes, it's very likely you don't remember half of what was said unless you are trained to do this job: taking notes and quickly summarizing the speaker's points.
So, as a bilingual, even if you are not an interpreter, you would be more adept at handling multiple tasks at the same time in one way or another.
5. Intercultural Communication
Depending on what career you choose, being bilingual or multilingual could become an extra skillset that you can add to your resume and it could help you earn more.
With businesses becoming more global and the Internet making the world smaller, you would become that much more valuable asset to your employer if you are bilingual.
6. More Ways to Enjoy Your Hobby
Want to watch a European League football game in Italian or Spanish? Read manga in Japanese or learn cooking in French? Whatever your hobby is, being able to understand another language lets you consume content differently than reading translated texts whether it's watching movies, YouTube video or reading books.
7. You Don't Feel Shy at an Airport If You Speak English
Ok, many native English speakers probably don't think much about being able to speak English. But if you are a non-native English speakers traveling to an English speaking country without decent command of English, it's tough.
On the other hand if you speak decent English, not only going to English speaking countries is easy, but also when traveling to non-English speaking countries you can get by at airports or touristy places.
8. You Will Embrace Diversity More
Wherever you were born, you are used to how things get done in your country. When you go to a different country, sometimes some of the things may feel weird to you, but understanding another culture lets you realize there are many different viewpoints.
You'll be more likely not just bogged down to one way of thinking. You will become more open to perspectives that are even foreign to you.
Final Thoughts
Studying a language is fun and I don't think many people start doing it to delay aging process or to become adept at juggling multiple tasks. But you get all these benefits and if it's fun, it doesn't get any better, does it?